by Amani Channel
Thanks! @sheatsb @RichStaats
I may know multimedia, but I'm in the novice category when it comes to WordPress design and site administration.
Sure I know some basic HTML, can install plugins and themes, but that's where my expertise ends.
So imagine what I was feeling after I upgraded to the latest version of WordPress today, and low and behold all of my blog posts and the right side bar was gone.
This is what I saw instead: Fatal error: Call to undefined function recent_posts() in /home/amanichannel/public_html/wp-content/themes/urbanreport1/leftsidebar.php on line 162
What to do?
Twitter!!
Not long after, help was on the way.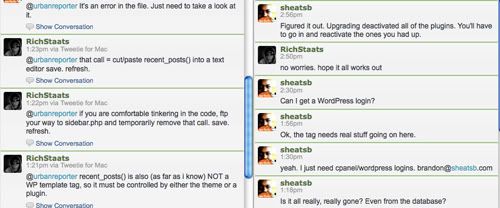 I have to thank two people specifically, @RichStaats, and @sheatsb.
Brandon Sheats who I know personally (he does great work) offered to go into my blog's back end and take a look at what was causing the problem.
Turns out that a plugin was creating the conflict, but I would have never figured it out.
How have you nurtured your network? Do you engage in conversations both on and offline? Do you offer sound advice? Are you trusted?
Don't ever think that people aren't listening or watching. They are, and if you're doing something right, help will come when you call.