by Amani Channel
#vidcampatl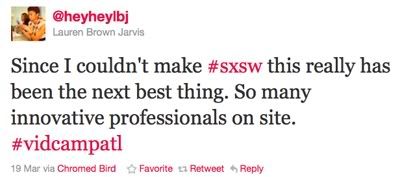 So, after weeks of twittering, Facebook messages, articles, planning, and organizing, Video Camp Atlanta came and went.
There have been plenty of social media camps – pod camps, public media camps, product camps, but, from what I could tell, this may have been the first video camp (please let me know if I'm wrong).
Overall, I'd gave the event a strong B grade. About fifty people came out to listen and learn about web video. It was a mix of journalists, media pros, students, and business owners.

Before I go into the details of the event, I'll talk about how we promoted and marketed it. We primarily used Twitter, Facebook, and used article marketing on Atlanta Daybook. We partnered with a few organizations who helped us spread the word. I created a video, that I shared frequently throughout my networks. We also had some promotional partners who helped spread the word.
I have to give an extra special thanks to Element K Creative (program), Sonny Hancock (flyer), Sixth Realm Digital (logo), and Kimberly Murray (photographer).
Everyone came together to help make this a great event. There were demonstrations and break out sessions that ranged from pocket and DSLR cameras to using video to monetize your content.
We decided to have the break out sessions repeat so that everyone could take in the information and not miss any of the content. People seemed to like this format, but the biggest complaint was that there wasn't enough time. Since this was a half day event, each break out was 30 minutes which didn't leave much time for Q&A.
We packed a lot of content into the half-day event, and it was non-stop.
So what's next? We definitely will organize another Video Camp in the future, and we are talking about taking the show on the road.
I'm just glad it all came together and people seemed to generally enjoy everything.
This event wouldn't have been possible with my friends, colleagues, and associates who led the breakout discussions, volunteered, and sponsored the event.
I've wanted to do this for about two years, and you helped my dream come true.
I have to give a special thanks to my lovely wife Daphne, Siddiq Bello, and my partner Selah. You all ROCK!!
And Menyuan Smith, (Grow Kids Inc.), we'll be making that donation as promised.
For photos of the event, please visit KimberlyMurray's page, and please like it.